Auto Glass Repair Services in Annapolis MD
If you are looking for the top rated auto glass repair company in Annapolis Maryland, then look no further. At Superior Windshield Repair, we provide quality auto glass repair services for your windshields, windows and door glass.
Have a chip in your windshield? Does your window have significant damage and need replaced? Are you worried about driving your vehicle until it's fixed? Then give us a call. Our services are affordable and completed in a reasonable timeline. Best of all, with our mobile repair service, we can come directly to your home or location.
Give us a call at 410-263-1155 for a quote and to schedule your appointment.
Mobile Auto Glass Repair Services Near Annapolis
Superior Windshield Repair offers a convenient mobile auto glass repair service to residents in Anne Arundel County, Maryland and the surrounding area. We understand that it's not always possible to take your car in for repairs, so our mobile service brings the repair shop to you.
Our technicians are fully equipped to handle repairs and windshield replacements from anywhere. Whether you are in Annapolis, Glen Burnie, Crofton or wherever you are, we can provide the necessary glass repair or replacement services you need.
Windshield Repair and Replacement Services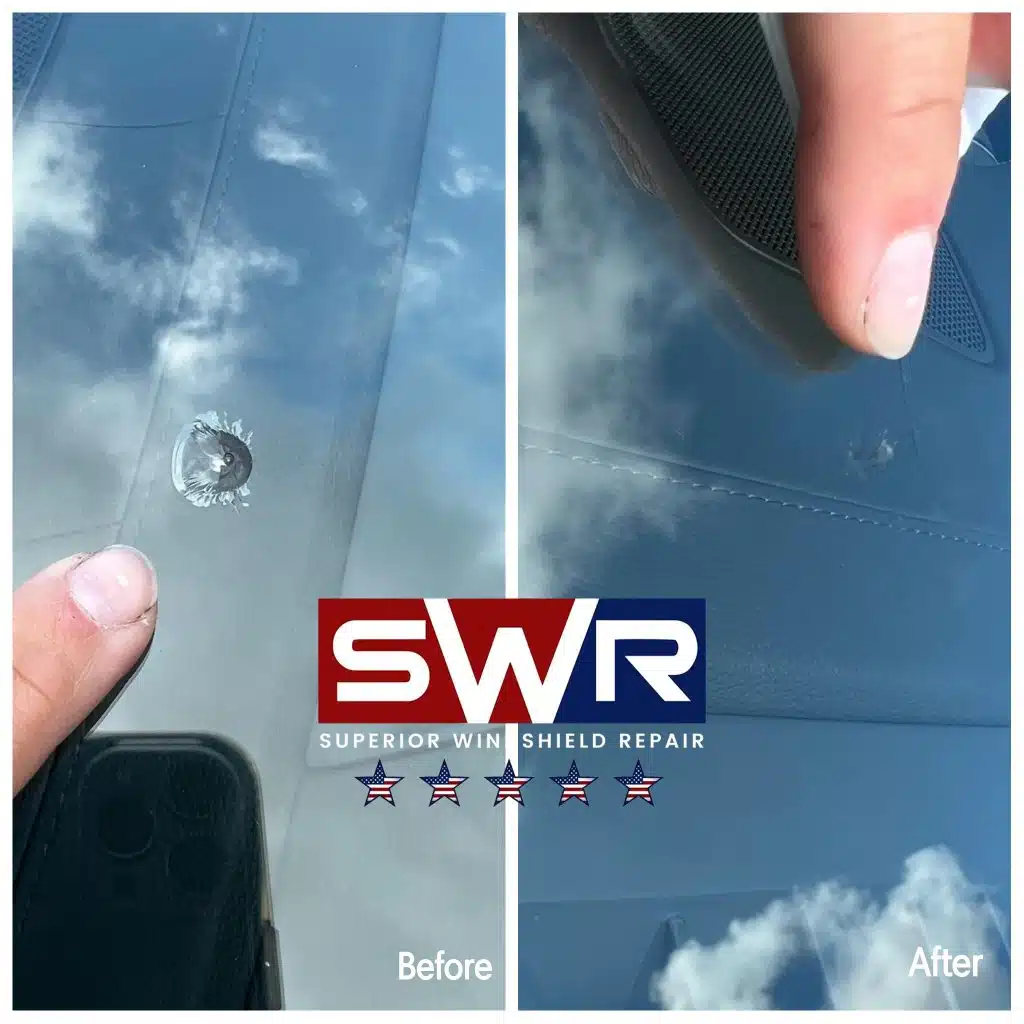 Our windshield rock chip repair service offers a quick and effective solution to safeguard your vehicle's windshield from escalating damage. Whether caused by pebbles, debris, or other road hazards, these minor blemishes can quickly turn into larger cracks, compromising both your safety and your wallet.
Our skilled technicians specialize in skillful rock chip repairs that prevent the spread of damage, restoring the clarity and structural integrity of your windshield. Using advanced techniques, we meticulously fill the chips, erasing their presence and ensuring a smooth, unobtrusive surface.
By opting for our windshield rock chip repair service, you not only save time and money, but you also prioritize your safety. A repaired windshield retains its strength, offering reliable protection in the event of accidents or collisions.
We offer rock chip repair services for $75 and offer a lifetime guarantee. Our service is affordable, performed quickly and most importantly, is reliable. Don't let a small chip lead to a costly windshield replacement or compromise your safety. Choose our expert rock chip repair service and drive with confidence.
Cracks near the edge of your windshield or that extend more than halfway into the glass are difficult to repair successfully. For such damage, you'll need auto glass replacement instead of a repair.
Our windshield replacement service is a reliable and convenient solution for restoring the pristine clarity and structural integrity of your vehicle's windshield. A damaged windshield not only obstructs your view but also compromises the safety of you and your passengers. Our dedicated windshield replacement service ensures a seamless and hassle-free process, getting you back on the road with enhanced safety and peace of mind.
With a team of experienced technicians and state-of-the-art equipment, we guarantee a precise and efficient replacement process. We source high-quality, OEM and OEM-equivalent glass to ensure a perfect fit and optimal performance. Whether dealing with extensive cracks, irreparable chips, or shattered glass, our experts handle each case with the utmost care and professionalism. Best of all, our professional glass installation comes with a warranty.
From start to finish, our windshield replacement service prioritizes your convenience. We offer flexible scheduling options and work efficiently to minimize any disruption to your daily routine. Our commitment to excellence means that you'll drive away with a brand-new windshield that meets or exceeds industry safety standards.
Choose our windshield replacement service to regain crystal-clear visibility, maintain the structural integrity of your vehicle, and drive confidently knowing that you've invested in top-tier quality and safety.
Our advanced windshield calibration services bring cutting-edge technology to ensure your vehicle's safety features are operating at peak performance. With the increasing integration of advanced driver-assistance systems (ADAS) in modern vehicles, accurate windshield calibration is paramount to maintain optimal functionality.
Our skilled technicians are trained and certified to work on electric vehicles. When calibrating windshields we meticulously calibrate the intricate sensors and cameras embedded in your vehicle's windshield. These systems, such as lane departure warnings, adaptive cruise control, and collision avoidance, rely on precise calibration to provide accurate data for safe operation.
Using state-of-the-art equipment and manufacturer-approved techniques, we ensure that your vehicle's ADAS systems are perfectly aligned and calibrated according to factory specifications. This meticulous process guarantees that your safety features will respond accurately to changing road conditions and potential hazards.
Rest assured, your vehicle's safety systems will be finely tuned to offer the highest level of protection, giving you peace of mind on every journey.
Damage to the door windows might not seem as important, but it obstructs and distorts your view of your surroundings. The ability to clearly see all around your car is crucial. We can repair any type of window that you have, whether it's laminated or tempered.
Laminated glass is stronger than tempered. It is designed to crack instead of shatter upon impact to protect the driver and passenger from injury. The types of auto glass we repair include
Quarter Glass Repairs
Quarter glass is a piece of glass on the side of your vehicle that's designed to help you see your surroundings. Any impact could cause it to shatter into tiny pieces. Whether your vehicle uses stationery or retractable quarter glass, our auto glass technicians are skilled enough to fix it.
Vent Glass Repairs
Vent glass is also usually oriented on the side of your vehicle. However, the purpose of vent glass is to allow for greater movement of the window and increased airflow to passengers.
In old car models, the glass was sometimes tilted open. New car models don't have tilting vent glass. All the same, we can fix the auto glass damage in older and newer vehicle models.
Request an Auto Glass Repair Quote
Superior Windshield Repair is committed to offering professional services for any type of glass repair, replacement, and even windshield calibration need you have in a vehicle. Our prices are affordable, our customer service is top notch and we provide a lifetime warranty on our auto glass services. 
To start the process of your auto glass repair, give us a call 410-263-1155 or fill out an online request form for a quote and to schedule an appointment. 
If you don't see your specific concern listed, contact us to ask questions and schedule an appointment.